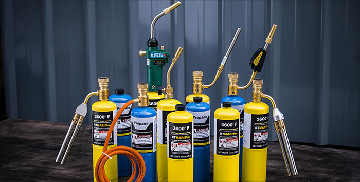 Ningbo Yihe Refrigeration Equipment Co., Ltd (RTM) is located in NINGBO, the one of the biggest sea port in China.
2011 we founded the RTM. We develop the map//pro from 0 to 5M.
Through 10years efforts, company achieve to complete production line, which is heating torch MFG, cylinder MFG and gas filling MFG. we export 20 million USD in 2021.
Affiliate factory
After 10 year's development, the company has grown into a group enterprise mainly engaged in retail cylinder manufacture, gas filing manufacture, and HVAC after service tools and accessories sales. We invested 20 millions USD for completing our production territory. The RTM group affiliate with 3 factories.
Xiangshang Changyu Tool MFG founded on 2010, the manufacturing of the mapptorches, and auto-aircondition tools (manifold&hydraulic crimper). 8000sqm buldding area.

Ningbo D&H Cylinder MFG. founded on 2017. Specialized for retail Cylinder. This is our first Cylinder factory, the factory space occupy for 8000sqm

FACTORY

QuzhongYong'an New Energy Technology Co., Ltd. founded on 2020, mainly focuses on retail Can and Hazardour filling line. we own 40000sqm gas factory and 6000sqm cylinder factory.
Development and Future
With Quzhou Yong'an New Energy Technology Co., Ltd as the main group company, expand international trade, enlarge the manufacturing scale of steel bottle and aerosol can, become the leader of retial cylinder and aerosol industry.